(REFURBISHED) DROIDWORLD 4K Q-TV Box (AMLogic S905 64bit) 8GB/2GB
AUD
DROIDWORLD ANDROID SMART TV BOX AUSTRALIA
#WORLDWIDE SHIPPING FROM AUSTRALIA
Out of stock
Description


What does 'Refurbished' mean, and how do they differ from the standard / brand new TV Boxes ?
Refurbished Android TV Boxes are those of which fall into 1 of 2 categories;
They were purchased and used by our customers, but then became faulty. As a result, we replaced the devices for brand new ones under our Warranty program for the customer, and had the old box professionally repaired / refurbished by either the manufacturer directly, or our local technicians. (this is usually the case)
They were ex-demo / ex-display units, or units which were 'traded in'/exchanged and were not ever faulty or repaired
Should you be concerned buying a 'refurbished' / second hand device?
Absolutely not! Please take note of the below;
Refurbished devices have been professionally repaired, tested & in perfect working order. Some devices have common faults, so the refurbished units have had those common issues fixed/replaced. In some cases, the entire boards inside are replaced (meaning 'as new' internals, with a 'second hand' external shell). In other cases, the fault with the device was simply a 'blown fuse' (in simple terms), or a specific module failure (which are then replaced with new parts).
What should you expect to receive when purchasing a 'refurbished' / second hand device?
You should expect to receive the following;
The Refurbished TV Box (with the possibility of some marks/scratches/fingerprints on the device) *this is based on luck/chance -> some of them may have little to no sign of prior use, while others may show clear signs of previous use.
The Refurbished TV Box in its original packaging box with all the original accessories, packaged neat and tidy. (in some cases the accessories will be brand new / sealed – while in other cases they may be re-packaged by us).
The device, and all accessories tested to our quality control measures to ensure perfect working order.
The TV Box to be 'fresh' and 'as new' in terms of software (ie; all refurbished devices have been reset/formatted with a new android firmware prior to sale). This ensures the previous customers personal/private data has been fully removed – aswell as ensuring the new owner experiences a 'new tv box' feeling. All refurbished models will come with the standard DROIDWORLD Software package.
12 months back to base Warranty – for your peace of mind
Summary: if you don't mind a few scratches or 'new' look, save big $ and enjoy!
Limited stock available
———————————–
The DROIDWORLD Q-TV is the perfect all-rounder with no lack in performance.
This is our latest device, brought in to replace the M8S unit. The new DROIDWORLD Q-TV is a superb performer utilizing AMLogic's S905 64bit processor. 
Those who have known DROIDWORLD for a while, will know that we always stock atleast 1-2 in-house products to meet customer requirements.
Some customers are not interested in brand names, and simply want something that works & gets the job done. Whether its for the parents or for yourself, you can be sure that the Q-TV will satisfy all needs.
We decided to upgrade from the M8S unit as we were not too happy with its performance – The DROIDWORLD Q-TV has had extensive time & effort put into the device – aswell as a custom firmware altogether.

As of October 2016 we have added a Broadcom Dual Band 5G WiFi chip

. I would personally describe its performance as triple that of the M8S. It has the same processor as the MINIX U1 !
From the packaging to the device itself, it gives the user a premium look & feel. The DROIDWORLD Q-TV features a neon lighting strip & optimized software.
When you buy a DROIDWORLD branded device, you know you are buying quality – backed with DROIDWORLD's 12 month back-to-base Warranty.
This device is intended for people who are looking for value. The great thing about it is that it performs just as well as the more expensive units for a fraction of the price.

Premium aftermarket remote controllers are highly recommended to use with an Android TV Box, as they make using the device much more enjoyable, and a lot easier to use!
Click on the picture below to see all the premium controllers that we stock which you can purchase along with your device.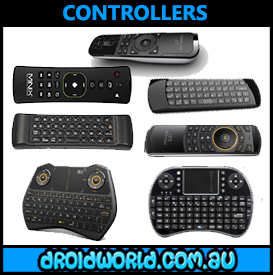 Wireless controllers include a mini USB receiver which you plug into the device – this means you don't need to point at the box like a traditional IR Remote control. You can control the device from up to 10 meters away pointing in any direction. Some of them also add extra functionality, such as an 'Air Mouse' (wave your hand to move the mouse cursor on the screen), Mini Keyboard (Makes searching easier, typing with ease), Mini TouchPad (like a laptops touchpad), Voice commands & more. (Please see the individual listing to know what features it holds).

Most features are universal across all devices. This means you can use the same apps, stream the same content & Turn your TV into a BEYOND SMART TV with any device you choose. We only sell the Best KODI TV Boxes.
Transform your TV into a  
BEYOND SMART TV! 
The ULTIMATE POWERHOUSE OF ENTERTAINMENT.
Experience the Future of Television Today!
All DroidWorld Android TV Boxes receive OTA (over the air) Updates on a Regular basis. This means your device will always stay up to date and hassle-free.
What can I do with my DroidWorld Streaming Box?
#Experience Android on your TV in FULL HD & 4K with this Android Smart TV Box. 
#Download and install your favourite Games and Apps from the Google Play Store.
#Sign in to your Social media accounts and receive notifications onto your TV.
#Connect your portable HDD and view your videos, photos, music or documents.
#Surf the Internet or access YouTube on your TV.
#Perfect KODI TV Box
#Stream Worldwide Live TV Channels using third party apps.
#Stream On-Demand Movies using third party apps.
#Stream On-Demand TV Series using third party apps.
#Stream Sports using third party apps.
#Stream Music, Music Videos & Radio from across the globe.
#Karaoke 
#Access to thousands of free third party apps.
#Import, organise & play your personal media library.
#Play Android Games on the Big Screen.
#Cast, Mirror & share content from your Android or iOS phone/tablet onto your TV.
#Access Network Shared Content from your PC or HDD on your TV.

X-Media Center – Based on the Award Winning KODI/XBMC Software
All DroidWorld Android TV Boxes enjoy the luxury of X-Media Center.
KODI/XBMC is an award winning, open-source Media Center. X-Media Center is a custom fork of KODI which is optimized for Android based devices. The KODI team currently do not have an Android Engineer, and therefore KODI has many playback issues with the majority of Android TV Box's on the market.
You can expect smooth FULL HD 1080P playback & 4K playback on 4K compatible devices.
X-Media Center features hardware decoding support for many popular chipsets including RockChip & Amlogic based devices. Ofcourse it also has all the same functionality of the Standard KODI such as third party addon support.

Install third party Streaming Apps into X-Media Center / KODI
There are thousands of third party apps which are available to install into the Media Center.
This includes apps which provide free Live TV Channels (such as FilmON & USTVNow).
Channels which are available from third party addons include;
U.K, USA, Australian, Greek, Cyprus, Canadian, Turkish, ITALIAN, 

Arabic, Indian (Tamil, punjabi, hindi & more), Vietnamese, Pakistani, French, Portuguese, Spanish, Brazilian, Russian, Cambodian/Khmer, German, Danish, Macedonian, Serbian, Croatian, Filipino, Malaysia, Thai, Asian Dramas

 + many more!
There are also apps available which provide the ability to stream movies, tv series & sports.
Users can use third party addon installers which provide a "one-click" fully loaded installation of the Best KODI third party addons.
Here is an example of the DroidWorld Streaming Box using the SuperMax Wizard for KODI which does just that:
The SuperMax Wizard for KODI provides MONTHLY OTA updates for KODI addons & features.
Stream What YOU want, WHEN you want. Everything at your fingertips.
—————————————————————————————————————————————————
 
Specifications of this Device (For the Tech Geeks):
MODEL:

 DROIDWORLD Q-TV
OS:

Android 5.1 Lollipop (Custom Firmware with performance and networking tweaks)
CPU:

Quad Core AMLogic S905 Cortex A53 64bit
GPU:

Octa-Core Mali-450
RAM:

2GB DDR3
STORAGE:

 8GB eMMC
(Can also connect Large External HDD via USB, or USB Stick)
HDMI Version:

 2.0
*FULL HD 1080P
*ULTRA HD 4K @60hz (up to 60fps)
SD/SDHC/MMC Card Reader
Optical SPDIF Audio
WiFi:

 Dual Band 5G 802.11a/b/g/n
Ethernet:

Gigabit (10/100/1000Mbps)
USB Ports:

 2xUSB + OTG
Bluetooth:

Yes
H.265 Hardware Decoding
Dolby Digital, DTS & AC3 Support HDMI Passthrough
Supports DLNA/Screencast & AirPlay

(You can mirror your Android or iPhone/MAC screen to the TV, or individual videos, songs, pictures & more).

What's in the Box
– DROIDWORLD Q-TV (in Retail Box)
– HDMI Cable
– IR Remote Controller
– USB/OTG Cable
– User Manual
– AU Power Supply
– DroidWorld Instructional Guide. Hard-copy Booklet.

DROIDWORLD 12 Months Back to Base Warranty
#All Android TV Boxes purchased from DROIDWORLD include a Local Warranty
#12 months back-to-base for any hardware issue!
In the rare case that your Android TV Box has an issue that our online tech support is unable to help resolve, we provide a quick and hassle-free solution. If the device has an un-repairable hardware issue, we simply get you to send us the device back, and we send you a brand new replacement! It's as simple as that – DROIDWORLD takes care of the rest. No lengthy waiting process, no overseas shipping – all Warranty issues are taken care of here in Melbourne, Australia. If in the unfortunate case your device develops a hardware issue outside of the Warranty period – DROIDWORLD is still here to help! ( with a fee 😛 )