Description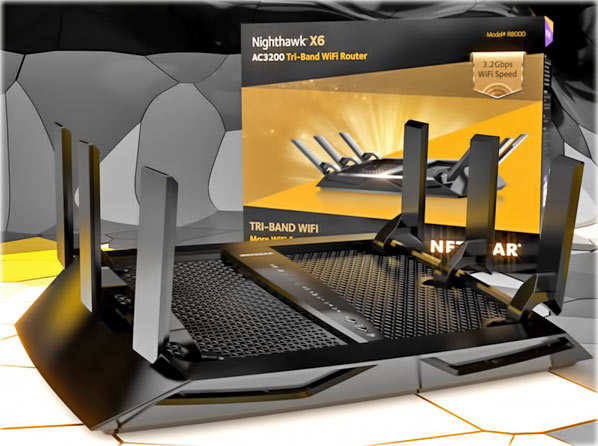 The internet modem/router that is provided by ISP's (internet service providers) is always of low quality. They are not designed for streaming, rather to get you online with simple internet use such as web browsing. We always praise the NETGEAR brand, and have now decided to stock them ourselves. 
Below are a few things to note:
If you find that your internet tends to stop working and you frequently have to restart your internet modem/router > this is a sign of your internet modem/router not being able to keep up with the pressure of your home network. This can be due to various reasons, such as; the modem has low specs and locks up under load (similar to an old PC or laptop freezing when you do too many things at the same time), the modem is not designed for heavy use, the modem is faulty &/or more. In reality if a modem requires restarting its not fit for the job.
If you find that your internet speeds are inconsistent and there are no faults with the line to your home, this is a sign that it may be time to update your modem/router.
If you are not getting close to the advertised internet speeds that you are paying for, this can be due to your modem/router not having the best hardware to push those figures, especially on WiFi. The modem/router plays a huge role in terms of network performance and internet speed – you'll be surprised.
Case Study:
We finally had NBN available in our area – so we made the switch. We are very familiar with all the devices on our network, aswell as the speeds they receive on average using our Netgear router. Signing up to NBN, we received a 'Sagemcom' f@st branded modem (Sagemcom' NBN modems are provided by many ISP's such as Belong, Optus & Telstra for NBN) – so we plugged it into the new NBN box and off we go. Our RK3188 android dongle had full WiFi reception, but the speed was so slow (1.5mbps), while other devices on the network (such as laptops and phones) were getting approx 21mbps. This was really strange, so we tried to make some configuration changes, including; changing the WiFi channel, changing WiFi width 20 40, resetting the NBN box & resetting the router we gave up. The highest speed we got it too was 3.5mbps. It was impossible for there to be an 'incompatibility' issue as the android dongle uses the wireless N network which is fully compatible with the Sagemcom router, and this is what most devices in people's homes use. After switching the router to a Netgear branded one, the speed literally went from approx 3mbps to 16mbps instantly. This is one example, of many, which we have seen &/or experienced when it comes to modems/routers. This is not a marketing gimmick, you can purchase a quality router from the store of your choice – just don't make the mistake of using the ISP provided one, if you wish to stream with ease.
ADSL / ADSL2+ Internet Connection Information for this specific router:
This router does not have a built-in DSL modem. You will need to have an additional modem to connect it too (you can ofcourse use your original ADSL / ADSL2+ modem as the modem – so you don't need to buy additional hardware). For more information about compatibility and setting this up with an ADSL / ADSL2+ internet connection, please contact your ISP (internet service provider) who can talk you through it.
Cable Internet Connection Information for this specific router:
Please note that this model is also compatible with Cable Broadband internet. You will need to connect this router to your original Cable modem via the Gigabit Ethernet WAN port of this device (all ports are labelled). For more information about setting this up with a Cable internet connection, please contact your ISP (internet service provider) who can talk you through it.
NBN Internet Connection Information for this specific router:
Easy automated setup with the Netgear Genie – on this specific model it auto detects and configures all the settings by itself! No manual configuration required.
The only requirement for NBN Fibre is a Gigabit WAN port on the router (which this router does have). Although there are various types of NBN connections so please check with your service provider for configuring/setting this up if you are not sure.
In general: if you have an NBN box installed at your house you simply plug any router such as this one into the UNI-D1 port of the NBN box and that's it. This all depends on the type of NBN connection which you have. Please check with your service provider about what kind of NBN connection you have, and what is the correct way of installing an aftermarket router. Also note that if you would like to use a VoIP telephone (if your connection supports it) you will need to buy a VoIP adapter (this router does not have VoIP built-in). VoIP is a system which allows you to make telephone (landline) calls via the internet.
We do not provide any technical support or installation support with modem setup or configuration. Please contact your Internet Service Provider who are readily available to assist should you require assistance – alternatively, get a professional to install it for you.
---

Quick Specs:
RRP $399 @ Officeworks
The Nighthawk X6 AC3200 Router has high performance Tri-Band WiFi technology that enhances gaming, streaming and mobile use and allows wireless speeds of up to 3.2Gbps. The R8000 operates 3 independent WiFi Networks simultaneously. X6 cleverly assigns each device to its optimal WiFi band so that it can reach its maximum speed.
The Nighthawk's Tri-Band WiFi technology offers super fast combined speeds of 3.2Gbps for uninterrupted streaming.
The Smart Connect feature makes sure that each device is connected to the fastest WiFi band possible.
There are six high performance antennas and powerful amplifiers to maximize range.
The Nighthawk has a high-speed USB 3.0 port and offers storage-ready access.
The Nighthawk allows internet streaming, gaming, updating and social media on different devices all at the same time with seamless clarity and zero lag.
The implicit and explicit beamforming+ focuses WiFi signals and delivers stronger connections with your devices.
The Nighthawk offers high performance lag-free gaming thanks to its 1GHz dual core processor.
It comes with the free ReadySHARE® Vault app which provides automatic continuous and scheduled backup for your Windows PCs on your home network.
It's easy to manage your home network with the Netgear genie.
NETGEAR GENIE APP AND PC INTERFACE FOR EASY CONFIGURATION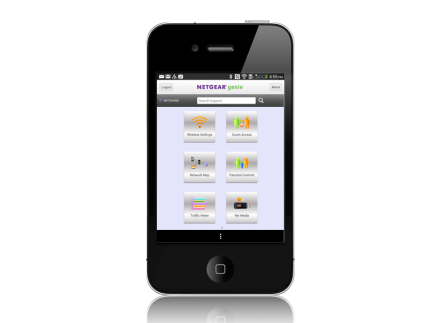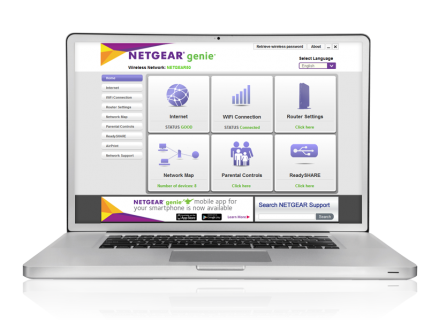 Description:
802.11ac Tri-Band Gigabit
More WiFi for More Devices
There's never been WiFi like it. The Nighthawk X6 AC3200 Router with breakthrough Tri-Band WiFi technology was built to connect to each and every device in your home—automatically and simultaneously. Laptops, tablets, phones, TVs, game consoles, music streamers, cameras – if it's WiFi enabled, it's X6 accelerated. A powerful combination of features —wireless speed of up to 3.2Gbps, 3 WiFi bands, Smart Connect intelligence, and Dynamic QoS— guarantees every device is assigned the fastest WiFi connection possible and optimized for maximum speed.
Multiply your WiFi
Nighthawk X6 takes your WiFi experience to another level with Tri-Band WiFi and 6 high-performance antennas

More WiFi for More Devices
See the eye-opening, multiple-device-connecting prowess of the Nighthawk X6—with speeds up to 3.2Gbps and a 1 GHz dual core processor with 3 offload processors.
Get the fastest WiFi speed available – up to 3.2Gbps
Tri-Band WiFi delivers more WiFi for more devices
Dynamic QoS bandwidth prioritization by application and device
6 High performance antennas for maximum range
Smart-Connect designates slower and faster devices to separate WiFi bands
1GHz dual core processor with 3 offload processors
Beamforming+ improves wireless range and reliability
USB 3.0 port offers high-speed, USB storage-ready access
Now with NETGEAR genie® with remote access
Best Tri-Band WiFi
Tri-Band WiFi with Smart Connect changes the game for today's home WiFi networks. With one 2.4GHz band and two 5GHz WiFi bands to work with, the X6 has the capacity, flexibility, and intelligence to assign each device to the WiFi band where it can connect at its maximum possible speed. The result is that faster devices can connect and perform unhindered by slower or older devices—meaning ALL devices load, stream, and game at their maximum speed.
Boost Wifi Range for More Devices
Keep your mobile device connected throughout your home with powerful amplifiers and 6 high performance external antennas. Roam freely and enjoy strong WiFi coverage and performance anywhere in your home. The 6 antennas deliver the breakthrough X6 Tri-Band WiFi and  Beamforming+ focuses WiFi signals creating stronger and more reliable connections for all to enjoy.
ReadyShare® USB — Ready to Store and Share
ReadySHARE® USB opens up a powerful set of convenient features like USB storage access and streaming media. With the available USB 3.0 and USB 2.0 ports on the X6 you can connect the USB storage you already own and enjoy high-speed access via WiFi.
And for your endless entertainment, ReadySHARE® USB lets you play, view, listen to, and share your videos, photos, and music on connected TVs, game consoles, or media players.
Safeguard your Files with No Worry Backups
FREE ReadyShare Vault PC software it there for you to schedule automatic hassle-free backups to safeguard precious photos and files from any PC directly to the connected USB storage. ReadyShare Vault is FREE to download and use with your Nighthawk X6.
Better Router Processors
What could you do with more speed? More power? With a 1GHz dual core processor and three offload processors, the Nighthawk X6 delivers faster WiFi speed, faster wired speed, faster USB access speed, and faster WAN-to-LAN speeds meaning faster overall network speeds than ever before. So go ahead and put this network to the test in your home.
Speed
Get more WiFi for more devices with the fastest combined WiFi speed currently available. Enjoy a blazing-fast, lag-free WiFi experience – up to 3.2Gbps.
Fastest combined WiFi speed—Up to 3.2Gbps 600+1300+1300 Mbps speeds

Tri-Band WiFi—3 dedicated WiFi bands to optimize speeds for all WiFi devices

Gigabit wired—Ideal for HD gaming and video

Gigabit WiFi—Next-generation WiFi now at Gigabit speeds

Dual core processor—Dual Core 1GHz processor and 3 offload processors boost wireless, wired and WAN-to-LAN performance
WiFi Range
Homes come in all shapes and sizes and the Nighthawk X6 Tri-Band WiFi Router with 6 powerful high performance external antennas provides WiFi coverage no matter where you connect in your home.
Ultimate range—WiFi coverage throughout very large homes

Antennas—High-powered amplifiers and 6 high-performance external antennas
Reliability
There's nothing more frustrating than lost connections. With Nighthawk X6 advanced features and best-in-class WiFi technology, you'll reduce interference and enjoy more reliable connections.
Simultaneous Tri-Band—More and faster WiFi connections to all devices

Dynamic QoS—Delivers bandwidth prioritization by application & device

Beamforming+ — Focuses WiFi signals for stronger more reliable connections on 2.4 and 5GHz bands

Sharing

Sharing across your network is fun and easy. Anything from accessing stored photos and music to sharing a USB printer and keep everything safe by using the included FREE ReadySHARE Vault software for backing up Windows-based PCs.

DLNA®—Find and play your media on DLNA TVs, game consoles and media players

ReadySHARE® USB access—Wirelessly access and share USB hard drive and printer via two USB ports

One super speed USB 3.0 port—Up to 10x faster than USB 2.0

ReadySHARE Printer—Wirelessly access and share a USB printer

ReadySHARE Vault—Free software for automatic PC backup to a USB hard drive connected to the router

iTunes® compatible—Play your USB-stored music using AirPlay or Apple Remote™

Ease of Use

Start enjoying your new X6 WiFi router faster than ever. NETGEAR makes sure installation and management is simple and easy, so you can connect quickly and stay that way.

Easy install—Easy setup for iPad®, tablets, smartphones and computers

NETGEAR genie® App—Personal dashboard to monitor, control and repair your home network. Now includes remote access to manage your network away from home

Push 'N' Connect—Easy push button WiFi connections (WPS)

WiFi and power on/off—Convenient power savings

LED on/off—Easily turn router LED lights on or off

Security

Maintain high security across your network to help ensure your privacy & family is safe while online. Whether it's preventing phishing or just limiting access for kids & guests, NETGEAR has you covered.

VPN support—Secure access to your home network when away from home

Parental controls—Web filtering for all your connected devices

Guest network access—Separate and secure access for guests

Secure WiFi connections—High level wireless security with WPA/WPA2

Open source support—Download open source firmware from www.myopenrouter.com

Personal FTP server—Customized free URL to create FTP server
Tech Specs:
WiFi Technology

802.11ac Tri-Band Gigabit

Speed and Range

WiFi Performance

AC3200 (600 + 1300 + 1300 Mbps)†

WiFi Range

WiFi Band

Simultaneous Tri-Band WiFi – Tx/Rx 3×3 (2.4GHz) + 3×3 (5GHz) + 3×3 (5GHz)

Beamforming

Beamforming+—Smart, signal-focusing technology boosts the speed,reliability, and range of your WiFi connections

Number of Ethernet Ports

Five (5) 10/100/1000 (1 WAN and 4 LAN) Gigabit Ethernet ports

Number of USB Ports

Two (2) USB ports: 1 USB 3.0 & 1 USB 2.0 port

Key Features

AC3200 Tri-Band WiFi
WiFi Band 1: 600 Mbps @2.4GHz-256QAM
WiFi Band 2: 1300 Mbps @5GHz
WiFi Band 3: 1300 Mbps @5GHz
Smart Connect intelligently selects the fastest WiFi for every device
Dynamic QoS intelligently prioritizes video streaming & gaming
High powered amplifiers and six (6) high performance external antennas
Implicit & Explicit Beamforming for 2.4 & 5GHz
Now with NETGEAR genie® with remote access
Powerful Dual-Core 1GHz processor with 3 offload processors
Memory: 128 MB Flash and 256 MB RAM
Two (2) USB ports: (1) USB 3.0 & (1) USB 2.0 port

Security

Customized free URL to set up personal FTP server
VPN support—secure remote access
Guest network access—separate & secure
WiFi Protected Access® (WPA/WPA2—PSK)
Double firewall protection (SPI and NAT)
Denial-of-service (DoS) attack prevention

Processor

1GHz dual core porcessor with three offload processors

Processor Technology

Memory

128 MB Flash and 256 MB RAM

Product Diagram

Physical Specifications

Dimensions: 11.63 x 8.92 x 2.14 in (295.5 x 226.8 x 54.5 mm)
Weight: 2.43 lbs (1.1 kg)

Package Content

Nighthawk X6 AC3200 Tri-Band WiFi Router (R8000)
Ethernet cable
Quick install guide
Power adapter

Standards

Two (2) USB ports: 1 USB 3.0 & 1 USB 2.0 port
IEEE® 802.11 b/g/n 2.4GHz-256QAM support
IEEE® 802.11 a/n/ac 5.0 GHz
Five (5) 10/100/1000 (1 WAN and 4 LAN) Gigabit Ethernet ports