Dodgy 'Australian' Android TV Box Sellers on the rise
New 'Android TV Box Australia' websites are popping up at a rapid pace – so who can you trust? Which websites/sellers are legit, and which ones to avoid?
It has been brought to our attention that there are a number of new websites emerging claiming to be Australia's Largest Android TV Box / Kodi Box Retailers – while this news/blog post may seem a little biased coming from DROIDWORLD, it is indeed worth a read.
DROIDWORLD welcomes competition, aswell as new 'players in the Android World – however, there are a few alarming facts that we feel the need to expose to keep consumers and online shoppers safe.
First, a little about DROIDWORLD:
DROIDWORLD is a family owned business established in Melbourne. What started off as a home-eBay side job in 2013, evolved into a legitimate company with a name Australian's have learned to trust. What used to be simply importing products from overseas sellers to re-sell locally, evolved into climbing the chain and directly dealing with major manufacturers – aswell as in-house quality control (hardware + software), often with firmware/software optimization for Generic Android TV Boxes.
What consumers need to be aware of:
You may/may not be aware, but for every 'generic' android tv box, there is over a handful of factories which produce them abroad. We would like to inform customers of the potential dangers of trying to source the cheapest price available.
(a) 'Clone Boxes' – Often referred too as 'clone boxes', they are android tv boxes which look exactly the same (identical), but contain totally different hardware inside. By totally different hardware, we don't mean the CPU or the amount of RAM OR the amount of storage. We are referring to the actual PCBA (the main-board), being a totally different design with different components. This is a cause for concern when there is no hardware protection circuit (or a poorly designed one), or inferior components and chip-sets being used. It also means that your box may not be compatible with firmware updates or custom firmware you find online (with the same name/model as your device).
The clones will always have inferior variants of brands being used for RAM, NAND-Flash / eMMC Storage & WiFi. Why does this matter? It matters because a no-name or unknown Storage chip can become faulty quite quickly – plus the slower read/write speeds means a totally awful experience for the user. Good quality devices usually use Samsung or SK HYNIX for the RAM / Storage, while the clones usually have no brand names.
Below is an example of an original box vs clone box (that look exactly the same on the outside):
*Image source; FreakTab
(b) Nasty factories – there are factories which produce devices with recycled parts, and house them in a brand-new-shiny 'shell'. The recycled parts are used from returned/faulty devices (where anything from the faulty boxes hardware which is still working is salvaged/recovered), and then used to re-produce new boxes sold as 'brand new'. The factories offload them to middle-men sellers abroad (in China), who then sell them at cheaper prices to unaware buyers. These unaware buyers are often the local sellers buying wholesale/bulk at cheap prices to re-sell locally.
(c) Bad Power Supplies – This point is often over-looked, but shouldn't be. A poor quality power supply / adapter can be the cause of your device becoming faulty – they can also kill your device slowly. We have seen one too many devices stop working due to a bad power supply. Also note that international adapters which make a buzzing sound at the power-point (due to being loose) are also a danger to the device, as they cause spikes of incorrect voltage which ultimately will lead to your device ceasing to work.
(d) 'Get in, Get out' – Many people will jump onto the 'next big thing' for a quick buck – otherwise known as a 'money making scheme. 
There are sellers out there which do not have your best intentions in mind. They may know nothing about the product, nor care – they are simply here for business. While there is absolutely nothing wrong with that (keeping morals aside) – there are some things you need to keep in mind;
Will the seller be around 3, 6 or 10 months after your purchase to replace or repair your faulty device?

Will the cheaper price be worth the saving if you are left without support when you really need it?

The cost of 2 cheaper boxes (the initial one, and the potential second one to replace the faulty one) will be more expensive than buying a good quality one to begin with

Will the seller honour the Warranty they are obliged to provide to you as an Australian consumer?

Is the seller promising you the world of free entertainment at a one off cost? Do the marketing tactics sounds too good to be true? If so, it's probably one you should avoid

Is the seller confusing you or misleading you with technical / complicated words, like 'latest android 7.1.1' or 'latest kodi 17' – leading you to believe that the version number of (in most cases) update-able software is the most important factor of the sale?
Please know that the latest version of Android is not a good thing when it comes to Android TV Boxes (they are generally sold with BETA / buggy firmware that is horrible to use). New Android versions are being released very quickly nowadays – quality brand-name manufacturers simply cannot keep up with the latest versions. See short explanation below:
The conclusion:
The main factor is to buy an Android TV Box which has a minimum of Android 5.0 Lollipop (do not purchase an older one with Android 4.4). The KODI version number is also not important, as you can always update the KODI version from the App Store. The entire android version gimmick came to existence when KODI released an announcement that the newer version of KODI (at the time, KODI 16) will no longer support Android 4.4 and below (due to using a new API which is only available in Android 5 and above). Our personal sweet spot is Android 5.1.1 – as Android 6 is only beginning to be a stable performer – while Android 7+ boxes are very buggy.
It's also important to note that DROIDWORLD did not forget its old customers, nor advise them that they need to buy a new box to continue to use KODI. Rather, we released a custom version of KODI that does work on Android 4.4 to ensure our customers were still able to enjoy their devices.
Moving on to the list of sellers to take caution of…
Below we will provide a few examples of sellers & sites to avoid:
*list created based on personal opinion, on the 10th of April 2018 – where we believe at the time of creation the content to be true and correct
Before we get started, we have to address the issue of websites imitating our website, including the way we lay out our page. With many directly copying & pasting content – plus false claims such as being 'the largest seller in Australia'.
But the question that will be asked is why? Why set up a 'fake' web site (or a website with fake claims) pretending to be something that you are not? Let us explain.
The hardest thing to do when it comes to business is keeping a secret. Everybody wants to be involved in the next big thing. When someone sees potential profit in a particular niche, they just can't wait to jump in. 
Anyway, lets get started!
Number One
*this site appears to have been removed since the time of this post
This website/seller (which has many different eBay names/accounts) has a long history with us, resulting in numerous take-downs of his website pages (due to copying and pasting a lot of our content, a lot of times). He has also purchased from us in the past only to leave negative feedback in an attempt to damage our reputation. But the main reason for listing the seller here is due to non-ethical business;
This is what we believe to be a classic example of a 'Get in, Get out' seller.
Using the 'wayback' machine, we can travel back in time to see how a website looked like in its previous life.
Below you can see we have traveled back to the 11th of March 2018, when iStreamBox was still a 'kodi box' 'android box' seller (using our famous 'watch what you want, when you want' slogan ofcourse).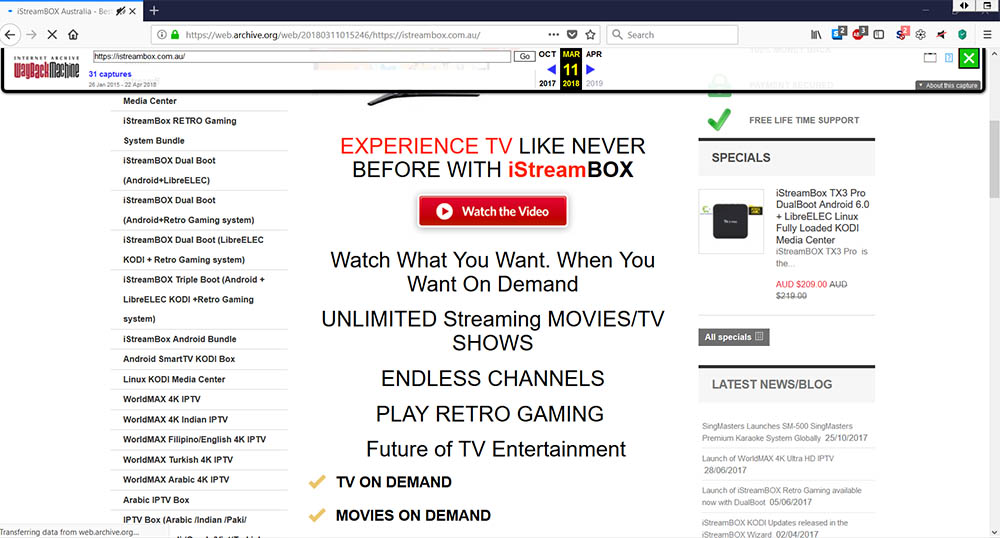 Today however, iStreambox has been re-branded to 'SingMasters' – "the world's leading karaoke brand". (there is also a new website registered for the new 'company', which we won't mention here).
Take a look for yourself!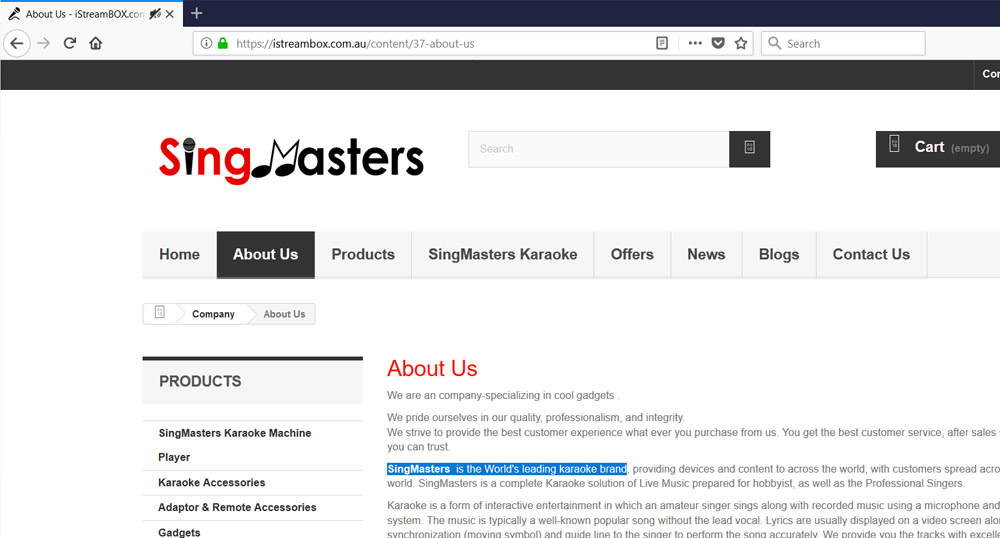 There is absolutely nothing wrong with a change of business plan, nor a new business venture. But this is deceiving.
---
Number Two
This website appears amongst the top results when searching Google for a TV Box in Australia (due to the domain name). This leads people to believe that this may be the top choice for purchasing an Android TV Box in Australia – where in reality, this is a fairly new website.
So, what's the issue?
(a) this website has dug deep to find the DROIDWORLD website theme, and has gone ahead and implemented it into their own website, giving a very similar feel and look which we believe to be misleading.
While we do not own the website theme, and any person can purchase a license to use the theme, it does seem a little skeptical why a new 'android tv box' website would copy the design of an existing 'android tv box' website.
(b) unfortunately, it doesn't end there. The website has also gone ahead and copied many other aspects from DROIDWORLD, while paraphrasing certain text to appear to be original content. See below example where the copied content is highlighted in red;
Original DROIDWORLD Content;
TV Box Australia Copied Content;

The conclusion; You can clearly see that the highlighted text has been directly copied and pasted. We believe that a genuine, honest & reputable seller would not start a new business venture by copying content from original existing sellers. We think that this practice is another example of a 'get in, get out' seller. We'll let you decide.
---
Number Three
Here we have another website which appears amongst the top results when searching Google for a TV Box in Australia (due to the domain name). This leads people to believe that this may be the top choice for purchasing an Android TV Box in Australia – where in reality, this is a fairly new website.
So, what's the issue?
(a) here we see another example where a new pop up website has appeared imitating the DROIDWORLD website design & marketing – which we believe can be misleading. See below example of part of the DROIDWORLD homepage in comparison to the androidtvboxes homepage;
Original DROIDWORLD Content;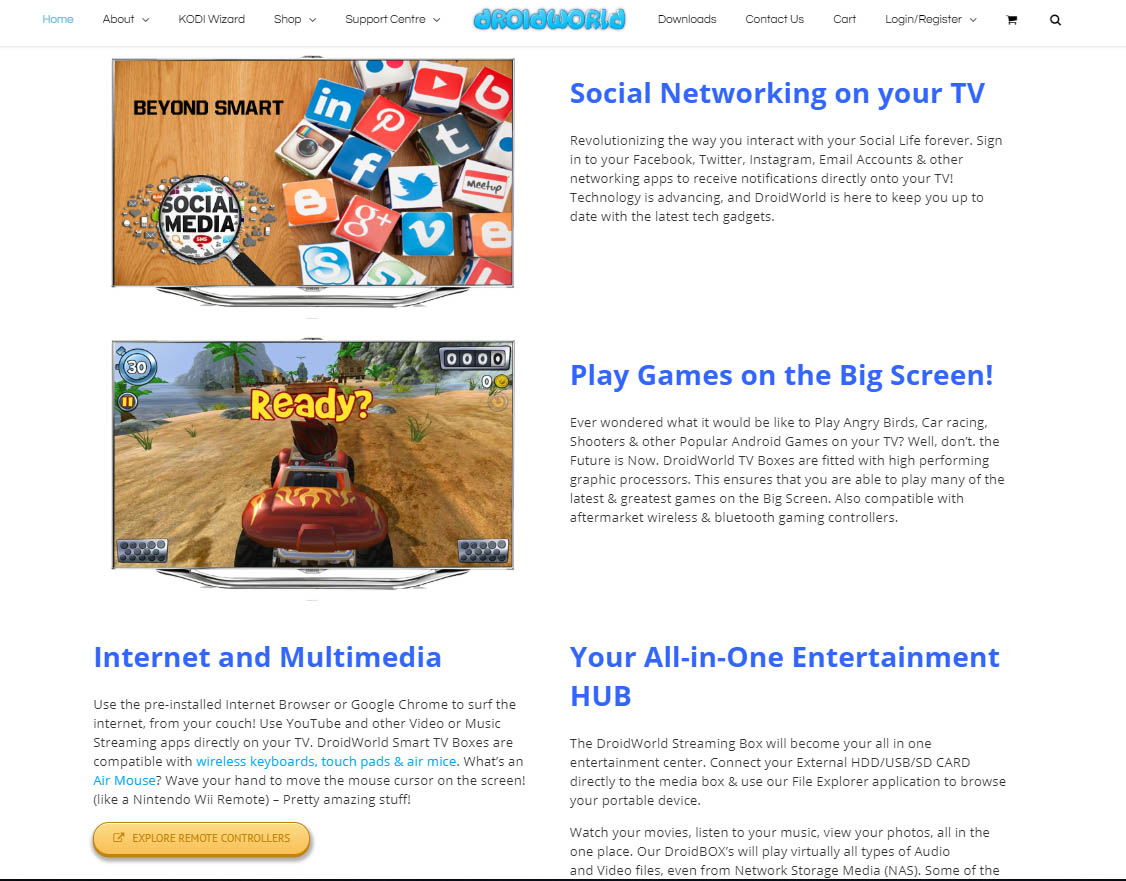 androidtvboxes.com.au similar design;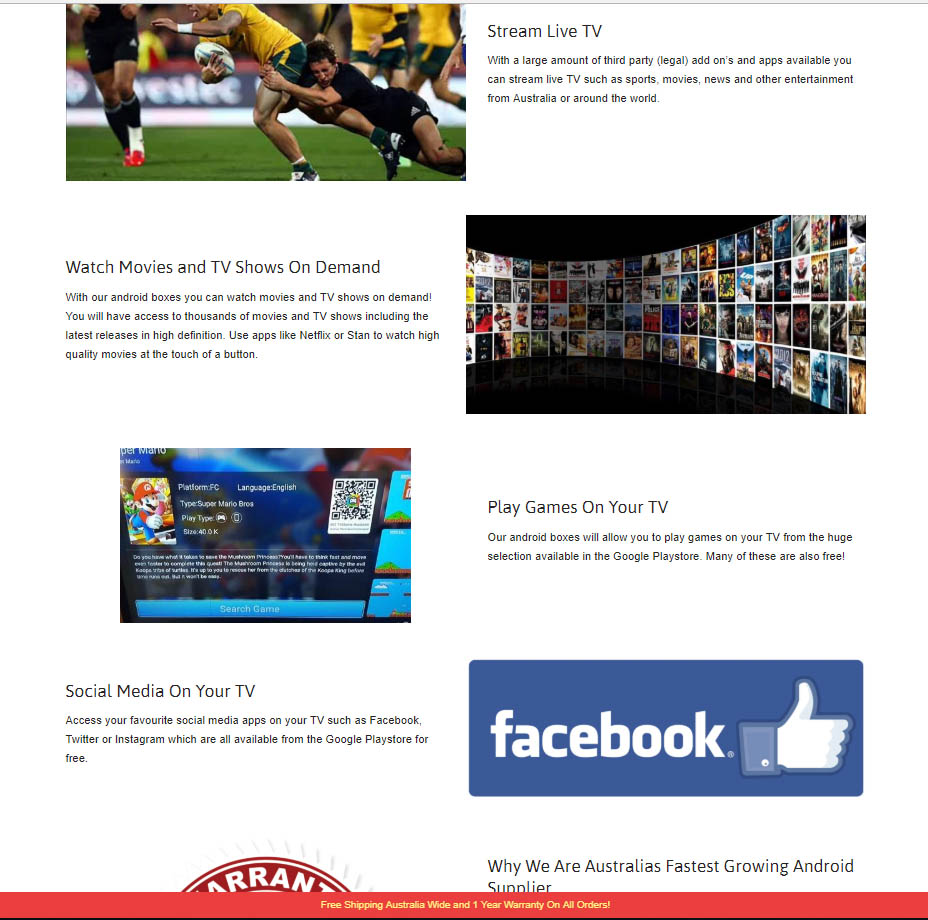 (b) more of the classic 'copy n paste' tactic to speed things up.
See below example of content directly copied and pasted from the DROIDWORLD website.
Original DROIDWORLD Content;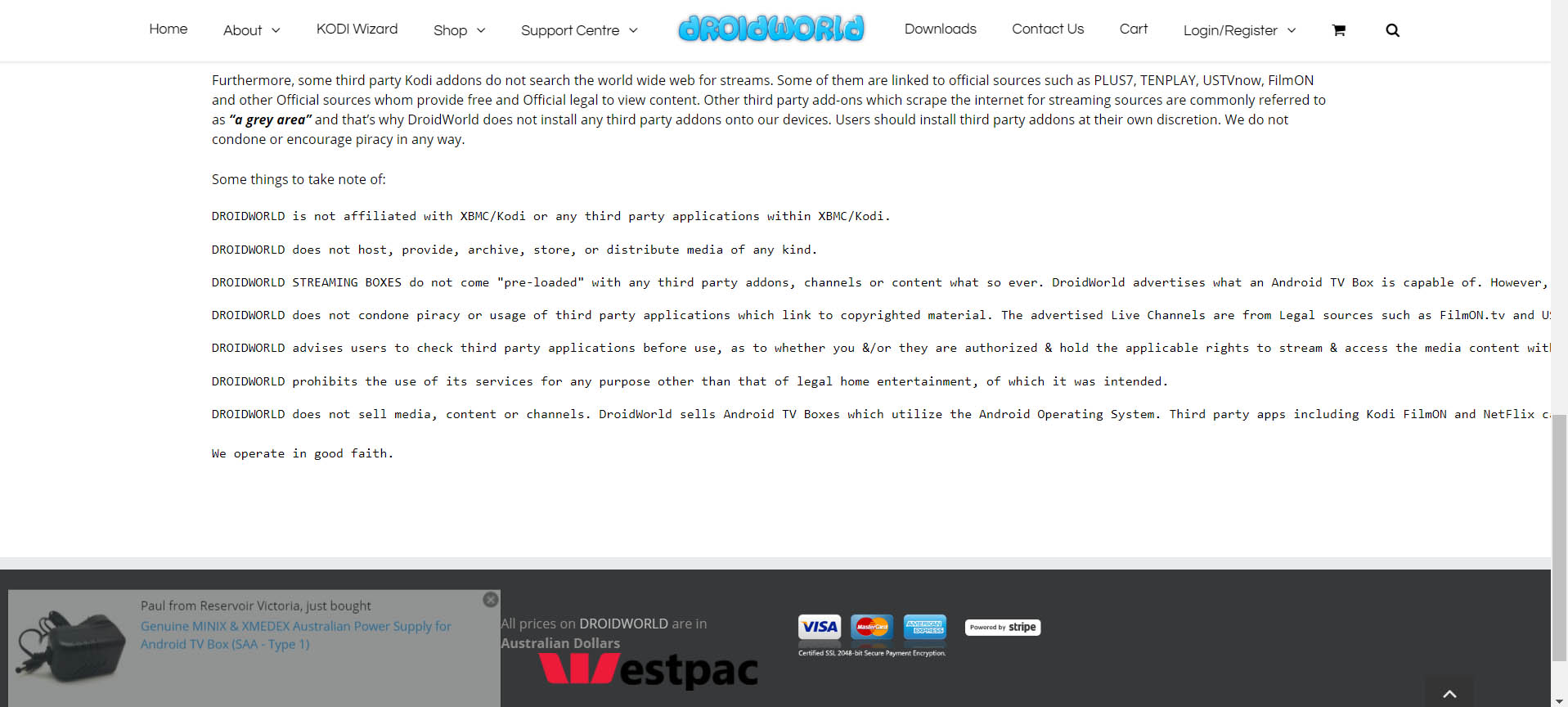 androidtvboxes.com.au Copied Content;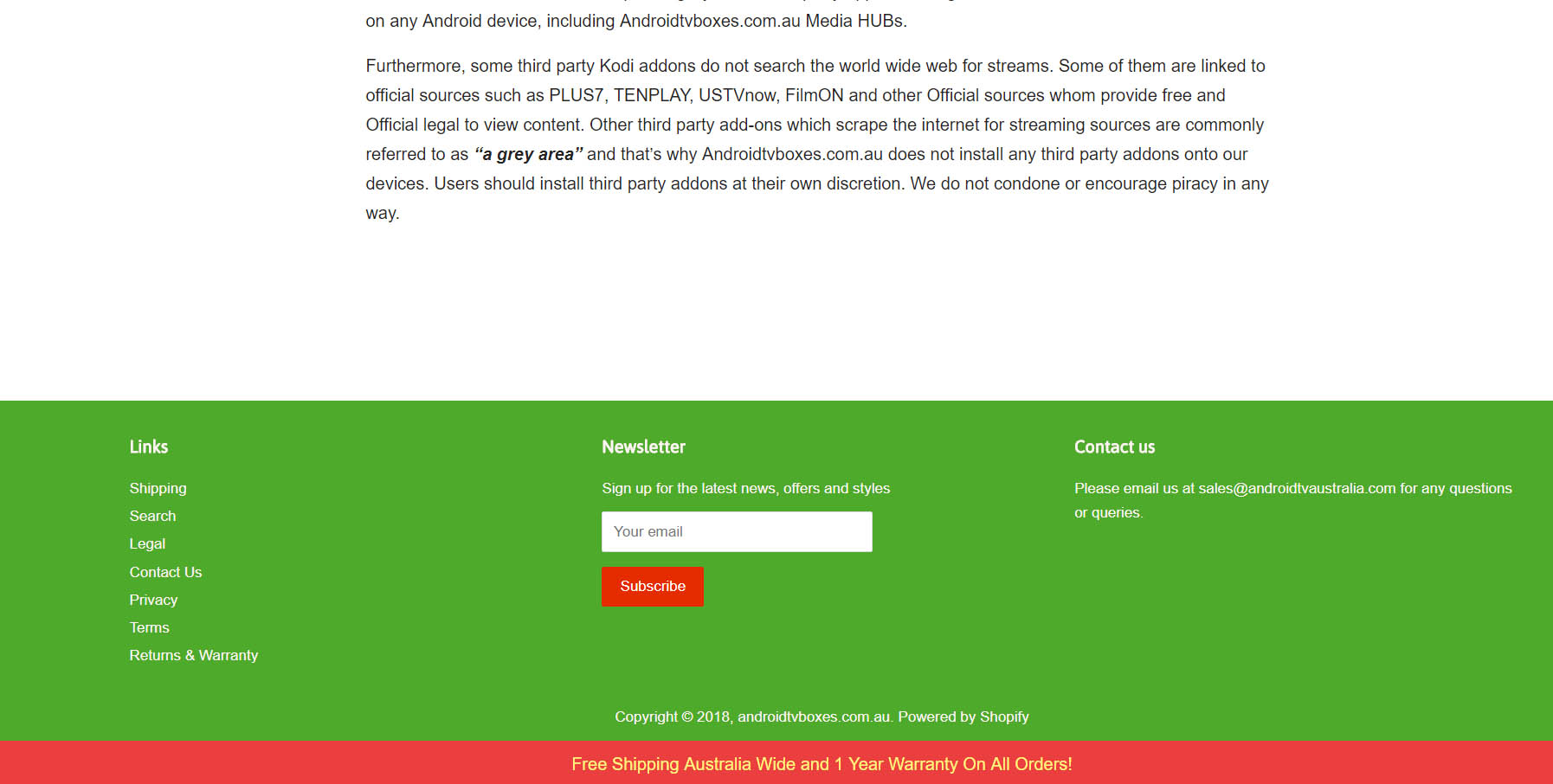 androidtvboxes.com.au Copied Content;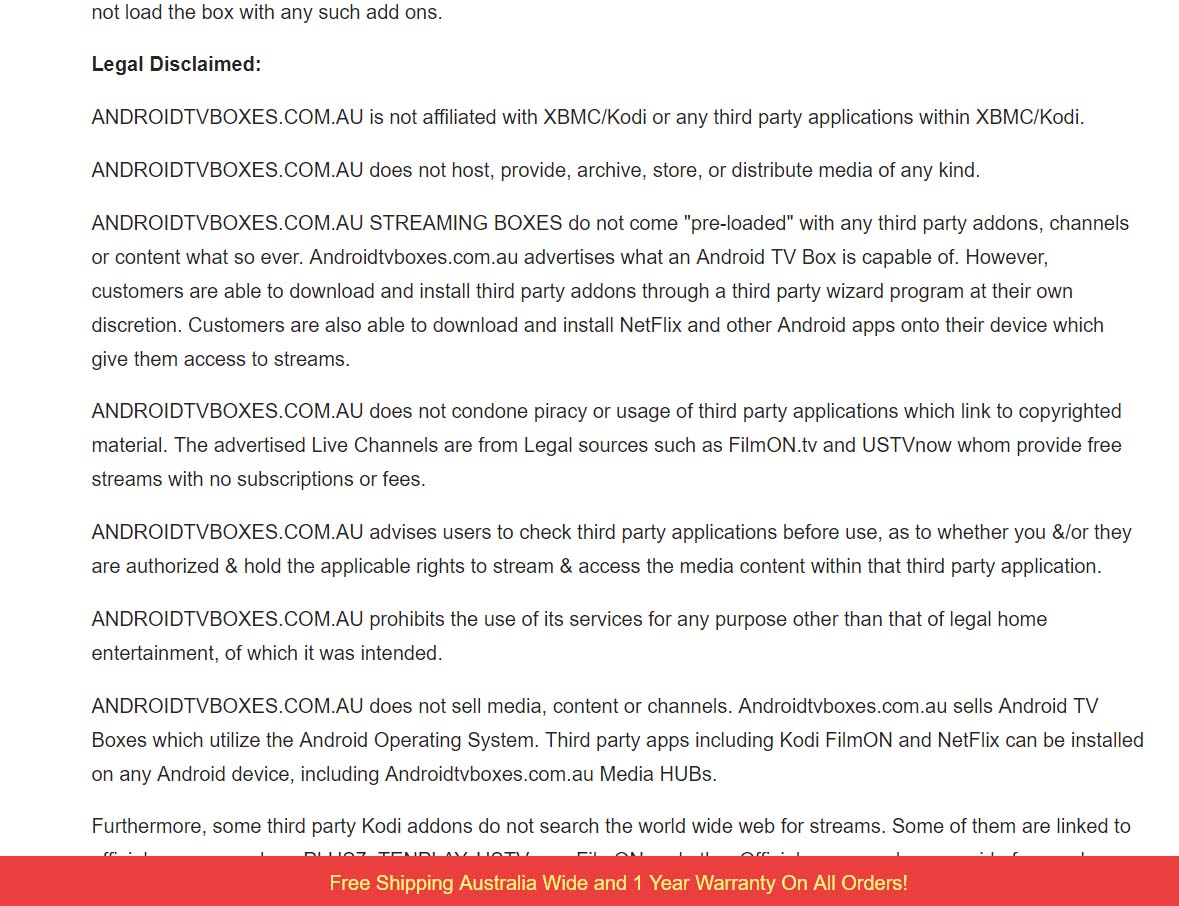 —————————————————————————————
In the last screenshot, you can see that the seller has simply replaced 'droidworld' with 'androidtvboxes'.
(c) another sales gimmick in relation to android and kodi version numbers.
Quote from the website: "Our android boxes allow you to access thousands of apps in high definition on your TV screen by turning your TV into a multimedia entertainment system! It is important to note that all of our android boxes come with android 7.1 Nougat which is the latest version so you know you are up to date when buying from us.".
The conclusion; Again, you can clearly see that the text has been directly copied and pasted. The seller is also using tactics to make users believe that version numbers are the most important factor of the sale (we explained the issue with this earlier in this article). We believe that a genuine, honest & reputable seller would not start a new business venture by copying content from original existing sellers. We think that this practice is another example of a 'get in, get out' seller. We'll let you decide.
---
Number Four
(4): Australian 'dropshippers' and direct China imports
What is 'drop shipping' ?
Drop shipping is being the 'middle-man' between a buyer and a seller – and is a very common practice on eBay & online websites.
Example scenario to best describe the practice;
(a) i launch an eBay store, or a website, advertising many products.
(b) i do not hold any stock, rather, i list stock which i can source from China.
(c) buyer visits my website, and buys 'product XYZ'.
(d) i proceed to purchase 'product XYZ' from my China source, however, i use the address of my buyer rather than my own, so that the item goes directly to the buyer.
(e) i make a quick and easy profit.
What is the issue here?
(a) i up-sell the product, and cannot really provide a real Warranty or support service, as i have no real relationship with the supplier or the manufacturer – I also do not have stock on hand to replace any faulty products – so i am taking a risk and hoping for the best (ie; that the item is functional and as described). Also, if a product was faulty, my profits may be too slim to replace the product for the customer (ie; the profit does not cover the cost of another replacement item).
(b) the customer does not know this, and thinks he is dealing with an Australian business.
(c) customers are usually willing to spend more buying from an Australian seller, for peace of mind; which is the peace of mind knowing that they can return the product if need be, or can have the product repaired/replaced if there is a fault. They pay the extra mark-up as there are extra costs for Australian businesses which includes rent, GST, employees, bills, and a real Warranty service.
Unless there is a real Warranty service in place (which is hard to know for new websites), it is just not right to pay someone a higher price when you can simply take the same risk & order the product from China by yourself.
This does not mean that all 'drop shippers' are deceiving customers, or that they all do not have a Warranty service – it just means that you should be cautious of trusting any random site.
*Note: DROIDWORLD does NOT dropship – all of our products are located in our Melbourne warehouse.
Here is an example of what appears to be a 'drop ship' purchase gone wrong;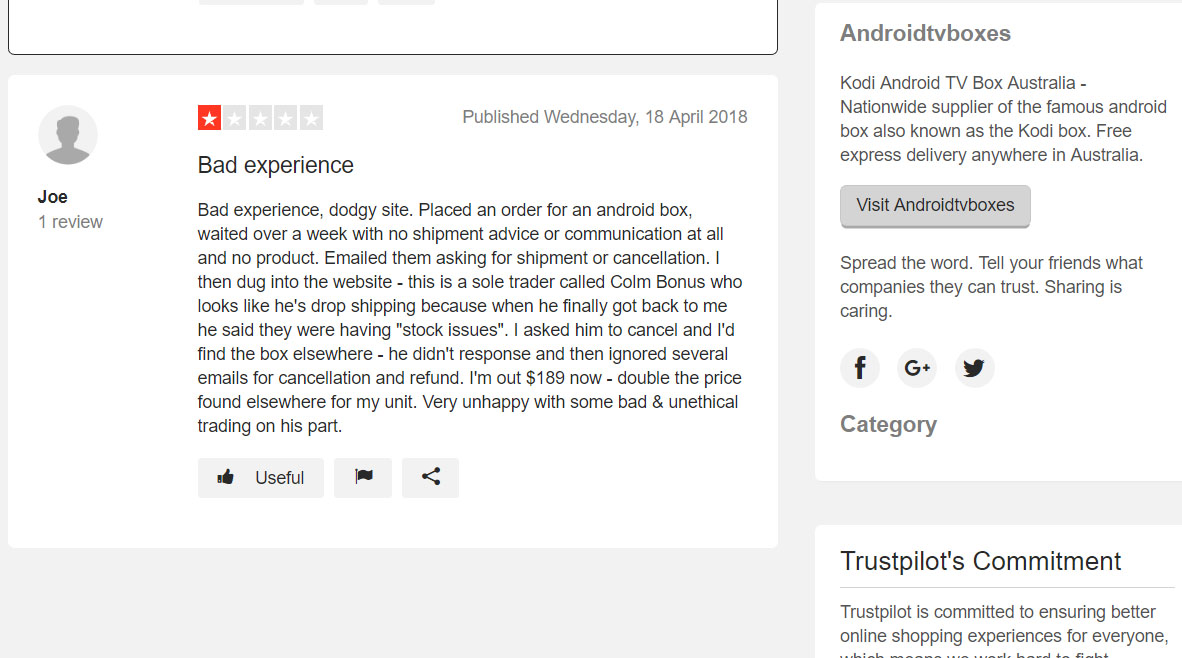 ———————————————————————————-
Number Five
(5): Sellers advertising 'fully loaded' boxes or Kodi Addons – with promises of free streaming for life
Please note that these sellers simply install Kodi on the box with some extra added Addons or extra added Android Apps. Kodi Addons change all the time, addons disappear/die, and new ones are released constantly. This means that after 1 month your favourite addon that was included on your 'Kodi Box' can simply stop working – and then you may think 'My Kodi box doesn't work anymore'.
There is no such thing as a 'Kodi Box' – it is an Android Box with the Kodi application installed on it.
The difference between the SuperMax Wizard and those 'fully loaded' boxes that you see advertised everywhere, is that the SuperMax Wizard will always update its configuration – meaning the addons will always work. The other key difference is that the SuperMax Wizard provides a clean, simple, legal configuration.
We hope we have given you some positive insight to make a smarter choice when shopping online.