Watch FIFA World Cup Russia 2018 on Kodi Free & Legal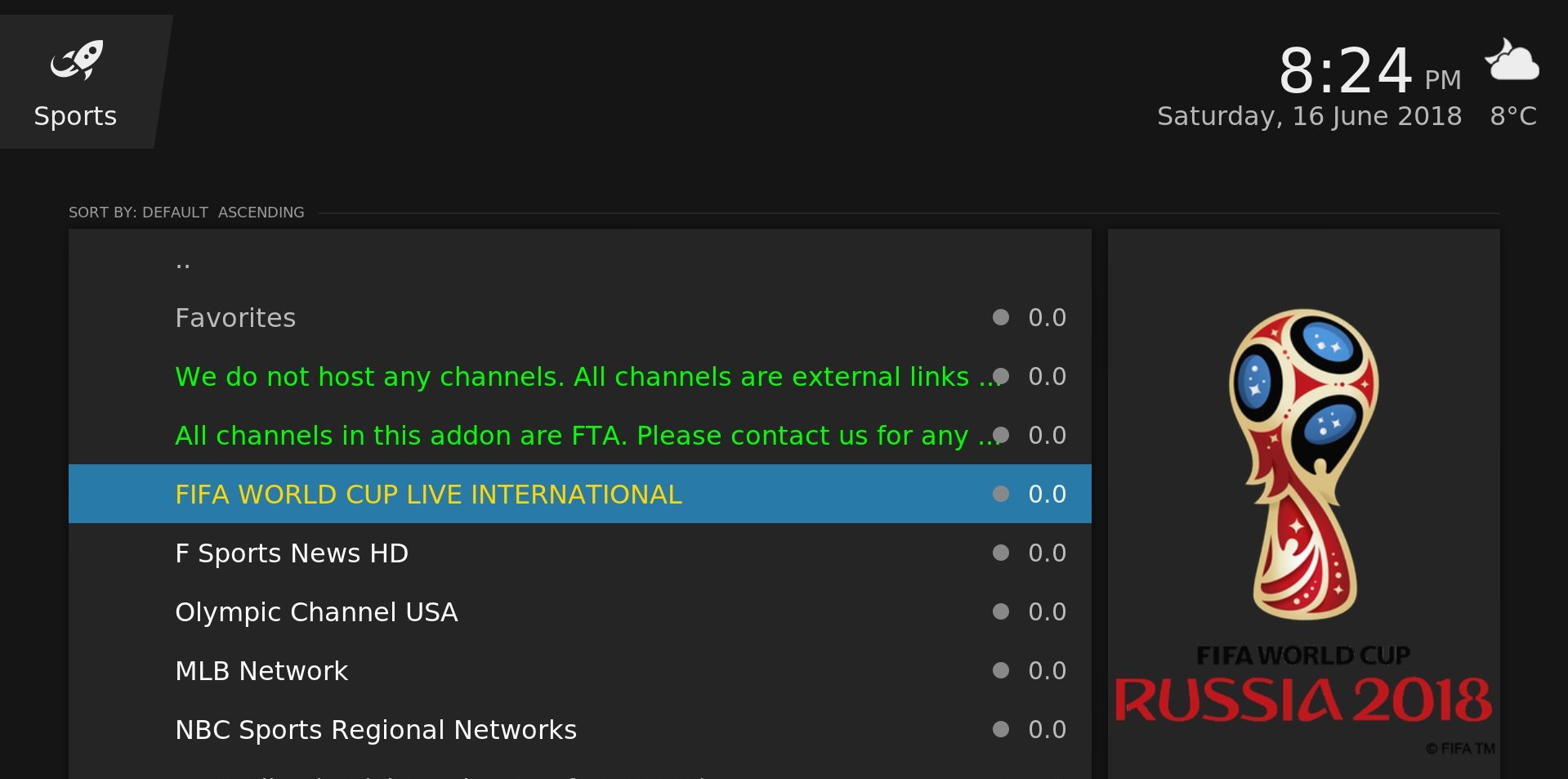 There are various FTA (free to air) International Channels which are broadcasting the FIFA World Cup 2018.
Some of them are ofcourse, paid premium channels/providers > Such as Optus Sport for the Australia region. Optus Sport costs $15 a month and you do not need to be an Optus customer. A great deal indeed and a thumbs up to Optus for providing access to non-Optus customers!
With Optus Sport however, there is a catch. You cannot watch using a 'rooted' / 'jailbroken' device. This means you can only use Optus Sport on MINIX Android TV Boxes and XMEDEX Android TV Boxes.
However, there are many FTA channel providers which are broadcasting live and free to the public – this even includes SBS Sports (although SBS does not have rights to ALL the games).
————————————–
EDIT: 20/06/2018: Optus Sports has been having technical issues with the streaming service (buffering/freeing), in order to compensate to the Australian public, they have generously provided the OPTUS SPORTS App for FREE for everyone to use until the 31st of August 2018. This means you no longer need to subscribe for $15/month to watch the 2018 Fifa World Cup in Australia.
Furthermore, they have provided SBS the broadcasting rights for the entire FIFA World Cup, which you can stream FREE using the SBS APP for Android or the SBS App for iPhone/iPad/iOS.
If you prefer to watch using your Computer/Laptop/PC or Android TV Box, then Click here for a direct link to the SBS Live Stream (if you don't have the necessary KODI Addons or the SuperMax Wizard, you can click this link directly from your Android TV Box's internet browser to Stream Live from SBS). Once on the page, simply scroll down until you see the current game, then click on it to open the live stream. (the streams are only available LIVE when the game is on – so make sure you open the link and click on the correct match at the correct time).
————————————–
To access FTA broadcasts of the FIFA World Cup using KODI, we suggest you use the SuperMax Sports KODI Addon > which is 100% legal, and only lists FTA providers. Some of them may need a VPN due to geo-restrictions > however, many do not. This includes Free to Air Live Streaming of the FIFA World Cup from Germany, UK & other International providers. You can also watch all the match highlights, results & more using the KODI Addon.
SuperMax will be releasing a free FIFA World Cup KODI Addon available to the public (without the need of having a SuperMax Wizard Account or being a SuperMax user), which we will post on this page soon. Watch this space for updates.