This remote has a built-in rechargeable battery. Please note that the buttons on the front, top half of the remote which are ORANGE in colour, are IR programmable keys. Ie; you can make them learn any IR signal from another remote control.
Another way to know which buttons are IR based, and which buttons are RF (wireless), is the colour of which the LED blinks when you press the button.
When you press a button on the Rii i25 remote, the LED will either blink orange, or blue.
All of the buttons which the LED blinks blue – these buttons are wireless buttons, and will control the device which you have plugged in the mini USB receiver into.
All of the buttons which blink orange (mainly, the buttons on the top half of the remote – including the arrow keys and OK button) – these ones are IR programmable buttons. For these ones, you need to program them to learn any button from any remote.
Some people like to program these buttons to control their TV. For example, you can make this remote control turn your TV on/off, adjust volume from your TV, change the source TV/AV/HDMI etc – this way you can use one remote to control everything.
Other people prefer them to just control their Android box. If you would like them to just control the Android box, you can program the IR buttons to learn the signals from your Android box's original remote controller which is included in your packaging box. (the smaller IR remote).
You can also mix and match – ie; program the arrow keys and the OK button from the Android Box Remote controller, but program the ON/OFF button and volume keys from your TV remote controller.
Please refer to the below diagram for instructions on how to program the ORANGE coloured buttons to suit your needs. All other buttons on the remote controller use the RF wireless signal and will control your Android TV box automatically.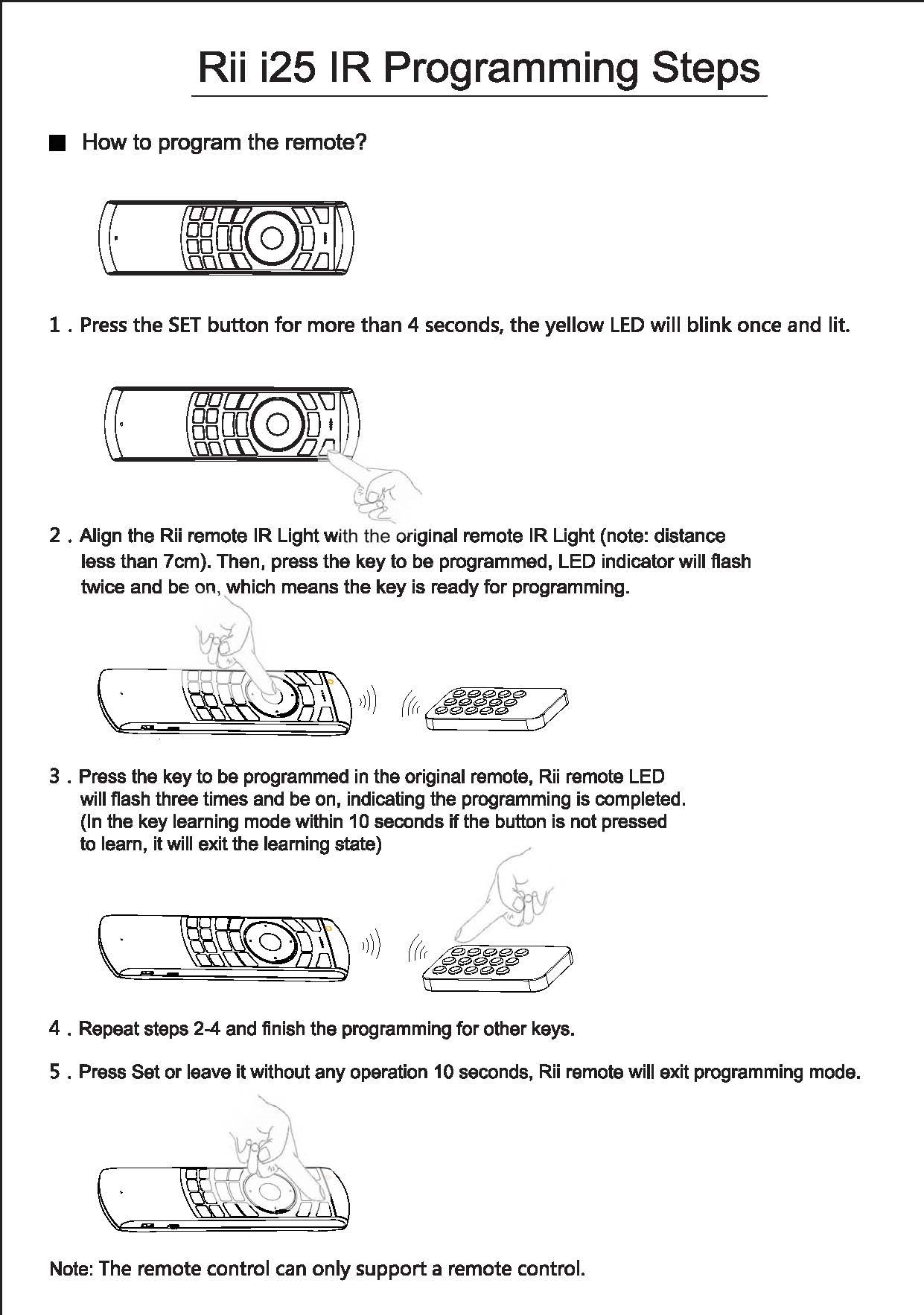 If you have lost your copy of the original Rii i25 User guide / instructions manual, please click here.