So you've heard about the new MINIX Neo A3 air mouse, but are not sure what the difference is from the previous Neo A2 Lite air mouse.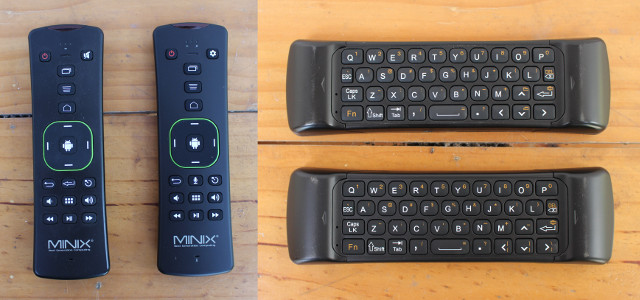 Looking at the picture above,  there doesn't appear to be any physical differences that catch the eye. Although there are a few things to note:
The newer A3 air mouse has a new "Microphone" button which replaces the "enter" button on the Neo A2 air mouse
On the rear (keyboard side), it all appears to be the same except for changing some of the orange coloured text on the arrow keys
The main difference (and reason you may want to upgrade) is the fact that the newer Neo A3 air mouse now has a built in microphone
This can cater for things such as Searching YouTube or Google by voice, etc. – it is a handy feature indeed as the Android system now offers the 'voice search' functionality in quite a few areas, and android apps are now starting to support this feature more often than before. Although we have seen this microphone/voice search feature already on the XMEDEX PRO Air mouse controller for quite some time now.